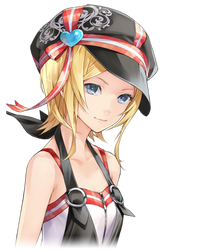 Prika (プリカ) is an Explorer from Theia and the sister of Grazie. Nicknamed "Hotheaded Prika", she is a bit witty and possessive in terms of her brother and considers Elroux as her rival. She also has a soft side, and worrying about the others, especially her crush, Daisuke.
With her brother, they form a formidable duo "Team Grazie" and explores Marble Blue with only the two of them. She also fond of Pigtapirs and participates in Pigtapir Races.
Prika is voiced by Rie Kugumiya (釘宮 理恵).
OVERVIEW
Edit
Prika has a small body, possibly in ages 13-15. she has a blue eyes and blonde, short hair (similar to cassie), wears a black beret with red and blue ribbon, black jumper shorts and white sleeveless shirt, black rocker shoes and red-stripped kneesocks.
Most of the time, she boasts the Protagonist's team about her brother, Grazie, on how mighty he is and and has a short temper. In battle, she uses a Gun Ring, similar to Leary, although their stance is different to each other.
The Protagonist's team first met Prika in the Ruined Battleship, along with Grazie.
Ad blocker interference detected!
Wikia is a free-to-use site that makes money from advertising. We have a modified experience for viewers using ad blockers

Wikia is not accessible if you've made further modifications. Remove the custom ad blocker rule(s) and the page will load as expected.