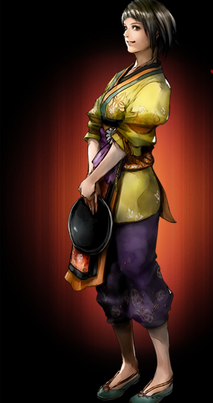 Kushina is a character in the Chaos Rings series, and is paired with Ayuta in Chaos Rings Omega.
Background/Story
Edit
She is the daughter of a merchant in the kingdom in which Ayuta is heir. The two are childhood friends and are also in love with each other. Before the Ark Arena though, because of their difference in status and the fact that the male was the higher class one, their love could not have happened. Ayuta and Kushina vow to make this work no matter what once they return to their homeland. However, Kushina is killed in their first arena fight when they are pitted against Cyllis and Yorath. She dies in Ayuta's arms. Later, it is shown that she was used by Cyllis to create a Conglom.
Kushina as an enemy
Edit
In Cyllis' Dreamvale, Kushina can appear as a dolphin-type enemy. Evidently, after being defeated in the Arena, her genetic information was used to create this monster.
Information
Edit
Formation
Edit
Gene Commands
Edit
Cross Claw (physical damage)
S-Healing (HP)
Gospel Save (heals 5000 HP)
She is voiced by Minako Kotobuki.
The art book that was included with the limited edition release of Chaos Rings III: Prequel Trilogy lists her age as 21 years old, her height as 163 cm, and her blood type as B.
Like Rachel, she is one of the combatants whose weapon is never seen and it is not known if she even has one. However, at one point in the game she is shown right after finishing a battle against a Conglom with Ayuta, so she has taken part in some battles. The trailer for the cancelled game Chaos Rings Sigma depicts her fighting with a naginata or other spearlike weapon.
Kushina's neck scar is briefly mentioned during the game, apparently given to her by her father.
Ad blocker interference detected!
Wikia is a free-to-use site that makes money from advertising. We have a modified experience for viewers using ad blockers

Wikia is not accessible if you've made further modifications. Remove the custom ad blocker rule(s) and the page will load as expected.